The Best Player for Audiobooks and Podcasts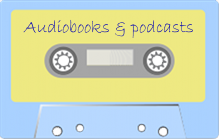 Although all portable players can play audiobooks and podcasts, few of them can do it well. In this article I suggest, based on my personal experience, what the perfect player for audiobooks and podcasts should look like.

Player matters
Audiobooks and podcasts become very popular medium of information. One cause of such popularity is a fact, that audio material, by its nature, has many advantages over text. However, an important reason for audiobooks spread is the creation of portable audio players.
Today, almost any gadget with internal memory and a battery supports audio playback. You can use a mobile phone, a communicator, PDA or a music player to listen to podcast or audiobook.
Personally, I enjoy listening to audiobooks and podcasts for many years. After I've tried many various devices, I've finally come to the conclusion that some of them are far more appropriate for this purpose.
Newer isn't better
Although there's obvious progress in portable players' development, it seems that, in case of audiobooks, many modern features actually degrade player's usability.
Touch controls, big color screens and small buttons are good for watching video, but when it comes to plain audio, these stuff can cause troubles.
Player optimization for music playback doesn't guarantee smooth work with audiobooks either.
The perfect player
So, what should the perfect player for audiobooks and podcasts look like? Based on my personal experience, I defined the following must-have features for such a player:
Bookmarks support
Proper search support
Tactile control
Large monochrome display with landscape orientation
Enough storage capacity
Good file browser
Bookmarks support
Proper bookmarks support is a foundation stone. Without it, you can't correctly resume the playback after a shutdown or a track change – you have to remember files you are listening to and current position for every file to restore it later. Needles to say, it's not very exciting experience, especially in a case of a poorly implemented search (in that case, you're obliged to hold "fast forward" or "rewind" button for minutes to find the right position in a large audio file).
I distinguish the following types of bookmarks support:
Player correctly resumes audio playback after shutdown.
Player restores position of playback on per-file basis.
Player has capacity to add any number of bookmarks for any file.
The absolute minimum is a capacity to resume playback where you left off after turning the player off and then on. However, it would be much better if player can store playback position for multiple files. Such an ability helps a lot when you listen to different books and podcasts at a time (or when you alternate audiobooks with music). These are two kinds of automatic bookmarks support.
Support for manual bookmarking is a different way to resume playback, which has its own pros and cons. The advantages are that you can manually mark a file to quickly return to it later (without searching through a file system), also, you can store multiple bookmarks for the same file. The disadvantage is you have to do more actions by yourself (which is usually error-prone).
Which type of bookmarking support is better? It seems that automatic bookmarking is suitable for listening to podcasts (because each podcast is usually represented by only one file), and support for manual bookmarking is a convenient feature for audiobooks (to remember current files). Certainly, it's better to have both.
Proper search support
Although decent bookmarking support significantly reduces the need for navigation inside audio tracks, there are cases where fast forward and rewind functions are still handy. For instance, you can use them to do the following:
repeat the last sentence;
omit an unwanted episode;
skip a commercial insertion;
find a particular place inside audio file (in case you have no bookmark).
Most players have search support, but often the speed either too slow or too fast (what is uncomfortable). An adjustable search speed is a partial solution, because any selected speed is constant, while preferable speeds for different action vary. (i. e. you may want a slow speed to repeat a phrase, and a fast one to find a particular episode).
Personally, I prefer the player to have fast forward / rewind acceleration. Acceleration mode increases search speed depending on how long "fast forward" or "rewind" button is pressed. This gives, on the one hand, means to easily skip small portions of audio, and, on the other hand, a tool for fast navigation inside long tracks. Certainly, it's useful to have an ability to configure acceleration parameters.
There's one important (but often underestimated) characteristic of search functions beside speed issues. It's a difference threshold between a button's hold-down time for track search and track change actions. The larger threshold is, the more likely you are to choose next or previous track instead of fast-forwarding or rewinding (so you have to select your file again and restore the precise position inside it). No doubt, only a player with clear distinction between search and track change actions can save you from going mad and tearing your hair out.
Tactile control
When you listen to audiobook or podcast it's likely you have to control your player more frequently than when you listen to music. Speech is a more subtle entity comparing to the music – often you need to pause the playback for a moment, repeat the sentence, skip a commercial insertion, raise or lower the volume, change the track, etc… Who wants to bother removing the player from a pocket or interrupting pleasant rest just to operate a brand-new touchscreen (or a touch wheel)?
Tactile control implies the following:
Player has palpable controls (like buttons) for all basic actions.
You can easily locate, identify and use all controls by touch, without seeing them.
You can operate all controls using one hand only.
It's unlikely to activate any control unintentionally.
Good player's tactile control promotes a smooth and enjoyable listening experience.
Large monochrome display with landscape orientation
Big enough screen is useful for fast and easy navigation among books, chapters and podcasts. Landscape orientation of the screen gives more horizontal resolution in order to avoid annoying titles scrolling.
Although colors on screen look cool, it's no surprise that color display is a pointless feature for pure audio player. Monochrome display, on the contrary, is comfortable for the eyes and has no problems with visibility in a bright light.
Enough storage capacity
Why is the player's capacity important? Usually, a typical audiobook consumes more storage space than an average album of music. Besides, it's handy to store all chapters of audiobook together. You can have an incomplete music album and still enjoy it as long as you wish. But, as for audiobook's chapters, sooner or later you will need every one of them.
Personally, I don't like to update player's memory every time I'm going to listen to the next part of an audiobook. Also, I have a habit to listen to many audiobooks at a time, and, depending on my mood, to add podcasts or music to my listening. That's why I consider storage capacity important.
Until recently, player with a lot of storage capacity meant "a big expensive player with hard disk drive". But, fortunately, because of a flash memory prices drop, today we can find handy and inexpensive portable players with 4-16GB flash memory inside. Apparently, such capacity is enough for comfortable listening to audiobooks and podcasts.
If you intend to interchange large amounts of audio material, you may also consider using player with memory card slot for removable flash cards (like microSD). Many up-to-date players support removable cards, although such support is often bounded by 2GB or 4GB card limitation.
Good file browser
Some players show all audio files in a single flat list, what is by no means suitable for listening to audiobooks. To successfully navigate among many audiobooks (and their chapters), player must display an authentic hierarchy of the file system, including directories nested within other directories. It's better to avoid limits either in the numbers of directories on the same level, or in the level of nesting.
Metadata tags (like ID3 tags) are a controversial issue. They can hold additional information about audio file beside the content of a filename. Sometimes that can be useful, but:
it is harder to edit tags than the name of file,
tags are intended for music and therefore store properties, directly inapplicable to audiobooks and podcasts (such as "artist", "album", "genre" and so on),
displaying of excess metadata requires scrolling,
often audio files lack tag information or include incorrect tags.
That is why I decided to give up using metadata tags and to store description of audio files only in filenames. Usually, I assign short but meaningful names to podcasts immediately before downloading.
It is up to you whether to rely on tags, however, you can avoid a great deal of confusion in this matter by choosing portable player with optional metadata tags' usage.
Miscellaneous features
There are a few other things to consider when choosing a portable player for audiobooks and podcasts.
Player should allow to play audio files by directory structure (don't reorder them by metadata tags). Support for continuous playing through a sequence of directories is essential to handle audiobooks divided in separate folders.
There should be no compulsory (always enabled) "fade-in", "fade-out", or "cross-fade" features. Obviously, they are not compatible with speech.
Player should supports many audio formats (like mp3, wma, ogg, mp4, flac, etc). Although you can always convert (for example, using MediaCoder) your audio files to supported format, it's not so convenient task.
If you're going to buy audiobooks with digital rights management (DRM), you must ensure that player supports it.
Conclusion
I laid down the basic guidelines for choosing portable player for audiobooks and podcasts. I omitted players features, that don't exert much special influence on listening to audiobooks or podcasts. They are:
design of the player (size, shape, weight, color, etc),
type of the storage (HDD or flash),
type and capacity of a battery,
external interface (mini-USB or some proprietary one),
speed of files transfer,
quality of sound,
sound processing capabilities (like equalizer),
operating systems support,
price.
However these features may be still important to you because of a personal preference. All need to be weighed before making a decision. That's why, unfortunately, there's no perfect player for everyone.
As for me, I have five portable audio players (not counting mobile phone, PDA and Sony Reader), and all of them are far from ideal (from my point of view, of course). Next player I am going to buy is one with Rockbox support.
Rockbox is an open source firmware for many digital audio players. It aims to be considerably more functional and efficient than stock firmwares while remaining easy to use and customizable. At the moment, it looks like it's the only software that good for listening to audiobooks and podcasts. Everything you need to use Rockbox is to have a supported player.
I hope the information will be useful to you. If you have suggestions for extending or improving the article, feel free to contact me.