Scala for Project Euler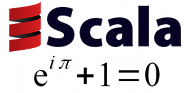 Project Euler is a collection of interesting computational problems intended to be solved with computer programs. Most of the problems challenge your skills in algorithm design rather than your knowledge of mathematics.
Thanks to short concrete problems and number-only solutions you don't have to thinker with IDEs, GUI designers, programming libraries and frameworks, so Project Euler is an excellent tool for learning a new programming language or improving your core programming skills.

Why use Scala
Although all general-purpose programming languages are Turing-complete and thus suitable for Project Euler, each language has its own philosophy and set of tools. In spite of programming language "holy wars", the truth is that different tasks demand different tools.
Since Scala is a multi-paradigm programming language, it allows programmers to efficiently express a wide range of common programming patterns. Most Project Euler problems imply advanced transformation of numeric or symbolic data and Scala's functional programming features are the perfect tool for that purpose (moreover, unlike pure functional languages, being a hybrid language, Scala provides object-oriented capabilities when modeling or simulation is required).
So, what does Scala have to offer for Project Euler? Here is the list of most valuable features:
scripting,
type-inference,
first-class functions,
tail call optimization,
lazy evaluation,
excellent collection library,
sequence comprehensions.
On the top of everything else, Scala brings enjoyment to your coding. According to The Right Tool Scala is ranked high in the following categories:
Thus Scala is the right tool for those who want to mingle the useful with the pleasant.
Sample solutions
This section contains solutions to the first 33 problems. You may use them either to size up how well Scala plays in Project Euler, or to compare your own solutions with the samples.
Keep in mind, that the purpose of these solutions is to demonstrate Scala in the first place, so the problems are just a "canvas" to show the elegance and expressiveness of the language. Many times I intentionally preferred a direct and concise solution (if it performs reasonably fast) to a "math-savvy" one.
All the code is available as a GitHub repository.
See also:
Problem 1
Add all the natural numbers below one thousand that are multiples of 3 or 5.*
val r = (1 until 1000).view.filter(n => n % 3 == 0 || n % 5 == 0).sum

assert(r == 233168) // 7 ms

Problem 2
Find the sum of all the even-valued terms in the Fibonacci sequence which do not exceed four million.*
lazy val fs: Stream[Int] = 0 #:: fs.scanLeft(1)(_ + _)

val r = fs.view.takeWhile(_ <= 4000000).filter(_ % 2 == 0).sum

assert(r == 4613732) // 1 ms

Problem 3
Find the largest prime factor of a composite number.*
def factors(n: Long): List[Long] = (2 to math.sqrt(n).toInt)
  .find(n % _ == 0).fold(List(n))(i => i.toLong :: factors(n / i))

val r = factors(600851475143L).last

assert(r == 6857) // 1 ms

Problem 4
Find the largest palindrome made from the product of two 3-digit numbers.*
val r = (100 to 999).view
  .flatMap(i => (i to 999).map(_ * i))
  .filter(n => n.toString == n.toString.reverse)
  .max

assert(r == 906609) // 102 ms

Problem 5
What is the smallest number divisible by each of the numbers 1 to 20?*
val r = Range(20, Int.MaxValue)
  .find(n => Range(2, 21).forall(n % _ == 0)).get

assert(r == 232792560) // 23 s

Problem 6
What is the difference between the sum of the squares and the square of the sums?*
val numbers = 1 to 100

def square(n: Int) = n * n

val r = square(numbers.sum) - numbers.map(square).sum

assert(r == 25164150) // 1 ms

Problem 7
Find the 10001st prime.*
lazy val ps: Stream[Int] = 2 #:: Stream.from(3).filter(i =>
  ps.takeWhile(j => j * j <= i).forall(i % _ > 0))

val r = ps(10000)

assert(r == 104743) // 24 ms

Problem 8
Discover the largest product of five consecutive digits in the 1000-digit number.*
val s = """<raw input data>"""

val r = s.filter(_.isDigit).map(_.asDigit)
  .sliding(5).map(_.product).max

assert(r == 40824) // 33 ms

Problem 9
Find the only Pythagorean triplet, {a, b, c}, for which a + b + c = 1000.*
val limit = (1 to 1000).find(n => n + math.sqrt(n) >= 1000).get

val rs = for (b <- 2 until limit; a <- 1 until b; c = 1000 - a - b
              if a * a + b * b == c * c) yield a * b * c

val r = rs.head

assert(r == 31875000) // 32 ms

Problem 10
Calculate the sum of all the primes below two million.*
lazy val ps: Stream[Int] = 2 #:: Stream.from(3).filter(i =>
  ps.takeWhile(j => j * j <= i).forall(i % _ > 0))

val r = ps.view.takeWhile(_ < 2000000).foldLeft(0L)(_ + _)

assert(r == 142913828922L) // 1 s

Problem 11
What is the greatest product of four numbers on the same straight line in the 20 by 20 grid?*
val s = """<raw input data>"""

val ns = s.split("\\s+").map(_.toInt)

def m(i: Int, p: Int, c: Int): Int =
  if (c > 0) ns(i) * m(i + p, p, c - 1) else 1

def ms(xs: Seq[Int], ys: Seq[Int], p: Int) =
  ys.flatMap(y => xs.map(x => m(20 * y + x, p, 4)))

val ps = ms(0 to 19, 0 to 15, 20) ++ ms(0 to 15, 0 to 19, 1) ++
  ms(0 to 15, 0 to 15, 21) ++ ms(3 to 19, 0 to 15, 19)

val r = ps.max

assert(r == 70600674) // 4 ms

Problem 12
What is the value of the first triangle number to have over five hundred divisors?*
lazy val ts: Stream[Int] =
  0 #:: ts.zipWithIndex.map(p => p._1 + p._2 + 1)

def p(t: Int) = Range(1, Int.MaxValue)
  .takeWhile(n => n * n <= t)
  .foldLeft(0)((s, n) => if (t % n == 0) s + 2 else s)

val r = ts.find(p(_) > 500).get

assert(r == 76576500) // 1 s

Problem 13
Find the first ten digits of the sum of one-hundred 50-digit numbers.*
val s = """<raw input data>"""

val r = s.split("\\s+").map(_.take(11).toLong).sum
  .toString.take(10).toLong

assert(r == 5537376230L) // 2 ms

Problem 14
Find the longest sequence using a starting number under one million.*
def from(n: Long, c: Int = 0): Int = if (n == 1) c + 1 else
  from(if (n % 2 == 0) n / 2 else 3 * n + 1, c + 1)

val r = (1 until 1000000).view.map(n => (n, from(n)))
  .reduceLeft((a, b) => if (a._2 > b._2) a else b)._1

assert(r == 837799) // 1 s

Problem 15
Starting in the top left corner in a 20 by 20 grid, how many routes are there to the bottom right corner?*
def f(row: Seq[Long], c: Int): Long =
  if (c == 0) row.last else f(row.scan(0L)(_ + _), c - 1)

def r(n: Int) = f(Seq.fill(n + 1)(1L), n)

assert(r(20) == 137846528820L) // 1 ms

Problem 16
What is the sum of the digits of the number 21000?*
val r = BigInt(2).pow(1000).toString.view.map(_.asDigit).sum

assert(r == 1366) // 1 ms

Problem 17
How many letters would be needed to write all the numbers in words from 1 to 1000?*
val units = Array(0, 3, 3, 5, 4, 4, 3, 5, 5, 4, 3, 6, 6, 8, 8, 7,
  7, 9, 8, 8)

val tens = Array(0, 0, 6, 6, 5, 5, 5, 7, 6, 6)

lazy val name: Int => Int = {
  case n if n < 20 => units(n)
  case n if n < 100 =>
    tens(n / 10) + (if (n % 10 > 0) units(n % 10) else 0)
  case n if n < 1000 =>
    name(n / 100) + 7 + (if (n % 100 > 0) 3 + name(n % 100) else 0)
  case 1000 => 11
}

val r = (1 to 1000).map(name).sum

assert(r == 21124) // 1 ms

Problem 18
Find the maximum sum traveling from the top of the triangle to the base.*
val s = """<raw input data>"""

val grid = s.trim.split("\n").map(_.split("\\s+").map(_.toInt))

def f(rows: Array[Array[Int]], bottom: Seq[Int]): Int = {
  val ms = bottom.zip(bottom.tail).map(p => p._1 max p._2)
  val ss = rows.last.zip(ms).map(p => p._1 + p._2)
  if (ss.length == 1) ss.head else f(rows.init, ss)
}

val r = f(grid.init, grid.last)

assert(r == 1074) // 2 ms

Problem 19
How many Sundays fell on the first of the month during the twentieth century?*
val lengths = Array(31, 0, 31, 30, 31, 30, 31, 31, 30, 31, 30, 31)

val ls = for (y <- 1900 to 2000; m <- 1 to 12) yield
  if (m == 2)
    if (y % 4 == 0 && (y % 100 != 0 || y % 400 == 0)) 29 else 28
  else
    lengths(m - 1)

val fs = ls.scanLeft(1)((ws, l) => (ws + l) % 7)

val r = fs.slice(12, 1212).count(_ == 0)

assert(r == 171) // 2 ms

Problem 20
Find the sum of digits in 100!*
def f(n: BigInt): BigInt = if (n < 2) 1 else n * f(n - 1)

val r = f(100).toString.view.map(_.asDigit).sum

assert(r == 648) // 1 ms

Problem 21
Evaluate the sum of all amicable pairs under 10000.*
val ds = (0 until 10000).view
  .map(n => (1 to (n / 2)).filter(n % _ == 0).sum)

val as = ds.zipWithIndex.collect {
  case (n, i) if n < 10000 && ds(n) != n && ds(n) == i => i
}

val r = as.sum

assert(r == 31626) // 658 ms

Problem 22
What is the total of all the name scores in the file of first names?*
val r = io.Source.fromFile("names.txt").mkString.split(",")
  .map(_.init.tail).sorted.map(_.map(_ - 64).sum)
  .zipWithIndex.map(p => p._1 * (p._2 + 1)).sum

assert(r == 871198282) // 38 ms

Problem 23
Find the sum of all the positive integers which cannot be written as the sum of two abundant numbers.*
val as = (0 to 28123).map(n => (1 to (n / 2)).filter(n % _ == 0).sum)
  .zipWithIndex.filter(p => p._1 > p._2).map(_._2)

val exc = as.view.flatMap { a =>
  as.takeWhile(_ <= (28123 - a)).map(_ + a)
}

val r = (1 to 28123 diff exc).sum

assert(r == 4179871) // 5 s

Problem 24
What is the millionth lexicographic permutation of the digits 0, 1, 2, 3, 4, 5, 6, 7, 8 and 9?*
def ps(s: String): Iterator[String] = if (s.length == 1) Iterator(s)
  else s.toIterator.flatMap(c => ps(s.filterNot(_ == c)).map(_ + c))

val r = ps("0123456789").drop(999999).next().toLong

assert(r == 2783915460L) // 712 ms

Problem 25
What is the first term in the Fibonacci sequence to contain 1000 digits?*
lazy val fs: Stream[BigInt] = 0 #:: fs.scanLeft(BigInt(1))(_ + _)

val r = fs.view.takeWhile(_.toString.length < 1000).length

assert(r == 4782) // 468 ms

Problem 26
Find the value of d < 1000 for which 1/d contains the longest recurring cycle.*
val ps = (2 until 1000).map(i => (1 to 2000)
  .find(BigInt(10).modPow(_, i) == 1))

val r = 2 + ps.indexOf(Some(ps.flatten.max))

assert(r == 983) // 2 s

Problem 27
Find a quadratic formula that produces the maximum number of primes for consecutive values of n.*
lazy val ps: Stream[Int] = 2 #:: Stream.from(3).filter(i =>
  ps.takeWhile(j => j * j <= i).forall(i % _ > 0))

def isPrime(n: Int) = ps.view.takeWhile(_ <= n).contains(n)

val ns = (-999 until 1000).flatMap { a =>
  (-999 until 1000).map(b => (a, b, (0 to 1000).view
    .takeWhile(n => isPrime(n * n + a * n + b)).length))
}

val t = ns.reduceLeft((a, b) => if (a._3 > b._3) a else b)

val r = t._1 * t._2

assert(r == -59231) // 6 s

Problem 28
What is the sum of both diagonals in a 1001 by 1001 spiral?*
def cs(n: Int, p: Int): Stream[Int] =
  (n * 4 + p * 10) #:: cs(n + p * 4, p + 2)

val r = 1 + cs(1, 2).take(500).sum

assert(r == 669171001) // 1 ms

Problem 29
How many distinct terms are in the sequence generated by ab for 2 ≤ a ≤ 100 and
2 ≤ b ≤ 100?*
val r = (2 to 100).flatMap(a => (2 to 100)
  .map(b => BigInt(a).pow(b))).distinct.length

assert(r == 9183) // 17 ms

Problem 30
Find the sum of all the numbers that can be written as the sum of fifth powers of their digits.*
def max(d: Int) = math.pow(10, d).toInt - 1

def sum(n: Int) = n.toString.map(_.asDigit)
  .map(math.pow(_, 5).toInt).sum

val limit = Stream.from(1).find(d => max(d) > sum(max(d))).get

val r = (2 to max(limit)).view.filter(n => n == sum(n)).sum

assert(r == 443839) // 2 s

Problem 31
Investigating combinations of English currency denominations.*
def f(ms: List[Int], n: Int): Int = ms match {
  case h :: t =>
    if (h > n) 0 else if (n == h) 1 else f(ms, n - h) + f(t, n)
  case _ => 0
}

val r = f(List(1, 2, 5, 10, 20, 50, 100, 200), 200)

assert(r == 73682) // 15 ms

Problem 32
Find the sum of all numbers that can be written as pandigital products.*
val ms = for {
  a <- 2 to 10000; b <- 2 to 10000 / a
  m = a * b; s = a.toString + b + m
  if s.length == 9 && (1 to 9).mkString.forall(s.contains(_))
} yield m

val r = ms.distinct.sum

assert(r == 45228) // 73 ms

Problem 33
Discover all the fractions with an unorthodox cancelling method.*
val rs = for (i <- 1 to 9; j <- (i + 1) to 9; k <- 1 to 9
  if k * (9 * i + j) == 10 * i * j) yield (10 * i + j, 10 * j + k)

val p = rs.reduceLeft((n, d) => (n._1 * d._1, n._2 * d._2))

def gcd(n: Int, d: Int): Int = if (d == 0) n else gcd(d, n % d)

val r = p._2 / gcd(p._1, p._2)

assert(r == 100) // 5 ms